There is never a good time to be recovering on one foot after an injury or surgery. You may be focused on everything you are missing or can't do, but here is a list of 101 things you can do even on crutches. Her's to your fast, full and even fun recovery.

1. Have that cute boy/girl help you carry your books.
2. Take extra naps.
3. Create an Instagram journal of your recovery.
4. Pull out your old toys and re-create scenes from your favorite movies.
5. Cross puddles without getting your feet wet...or at least try.
6. Get a friend or two to help you decorate your cast or crutches.
7. Host a Euchre tournament.
8. Create new one footed dance moves.
9. Make up a ton of different stories about how you injured yourself.
10. Show off your fashion and style using your cast or boot.
11. Go to Google Earth and look up places you know and places you've never heard of.
12. Try out a new restaurant.
13. Make a comic strip.
14. Attach a camera to your crutches or on your head to film things from your perspective.
15. List 20 things you like about friends/family and then give the list to them.
16. Find some fun brain teasers to try.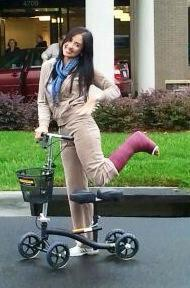 17. Write in your journal (or start one).
18. Spend all day speaking with a funny accent.
19. Have a paper airplane contest with your friends.
20. Get a
modern crutch alternative
and say Goodbye to your crutches.
21. Post videos on YouTube.
22. Have a conversation with yourself.
23. Friend us on
Facebook
.
24. Make a house of cards.
25. Get ahead on your homework.
26. Check out
Pilates exercises
that can be done while NWB.
27. Have a cast signing party.
28. If you're a college student, find out if your injury qualifies you for a temporary handicap sticker.
29. Make an indoor fort with your friends.
30. Don't push yourself too hard, rest is the best way to recover.
31. Use this as a good excuse to get out of gym class.
32. Rip music off your CDs (or do it for your parents).
33. Catch up on your favorite TV series.
34. Learn a new word and then use it as much as possible.
35. Make your own popsicles.
36. Mismatch all your roommate's socks.
37. Join an
online community for other students on crutches
.
38. Those chair workouts on TV can actually be really good when NWB.
39. Stay up as late as you want and sleep in as long as you want.
40. Find a paint-your-own pottery place.
41. Take pictures of other broken things you see.
42. Use the store's shopping cart wheelchair (just be careful not to get kicked out!)