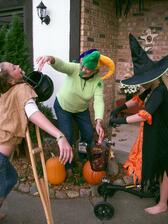 Halloween is one of the best nights of the year for fun and candy. Can you imagine having to maneuver around your neighborhood on crutches?
The thought of walking more than a few feet is miserable. How do you hold your candy bag?
What if your costume won't work? How do you maneuver through yards?
What if your kids are running ahead of you and you can't keep up because you're using crutches?
We at Goodbye Crutches want to help make your Halloween more enjoyable if you're on one foot this year.
Below are a few tips for safe trick or treating this Halloween.
Stay on the sidewalk (if there is one) cutting through yards may results in trips or falls on wet, slippery leaves, brush piles, extension cords.
Carry a flashlight with you at all time. You don't need another broken foot/ Check the flashlight before you leave to make sure you have enough battery life.
Bring a buddy to help you. Especially if your using crutches, your buddy will need to carry the flashlight and candy bucket for you.
Check your costume and make sure it's appropriate for the conditions. If you're wearing a giant grape costume, it may not be too comfortable after the 1st hour of trick or treating.
Watch out for retaining walls and stones. Some yards have steep inclines that may cause you to trip or fall. Landscaping timbers get buried under leaves, flowers, or long grass.
All those light up Halloween decorations require electricity to run them. Watch out for extension cords and plugs. They are easily hidden in the dark night and could lead to another Achilees Tendon rupture
Tree roots are a big tripping hazard as well. The large maple tree has roots that grow above the ground. If you're unstable on your feet, a trip is sure to happen.
If it's wet or raining get the Goodbye Crutches Cast Cover to keep your cast try in the rain.
My suggestion to you, if you're out on Halloween night with a broken foot? Rent a Knee Scooter or Seated Scooter from Goodbye Crutches. We care about your health and safety and we want you to enjoy Halloween on one foot.