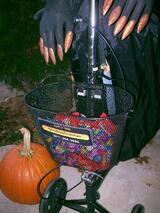 October 31st is coming quickly.
Have you thought about how you're going to chase your kids around with an injured leg?
Maybe you won't be out on the streets, but need to man the door while the little ghosts and witches come around.
If you've been on crutches for long, you know there are many things you can't do very well with your crutches. I bet you've already figured out a lot of things but have you thought ahead to Halloween?
Imagine yourself doing these fun activities while on crutches....
Picking Apples

Raking Leaves

Trick or Treating with your kids

Picking out a Pumpkin

Decorating for Halloween

Going to a Corn Maze

Baking an Apple Pie

P

lant Spring Bulbs
Taking your Dog for a Walk

Go on a Hayride

Carving Pumpkins
Now imagine doing all those things from the comfort of a Knee Scooter, Seated Scooter, or Hands Free Crutch. Goodbye Crutches is here to help you do your normal, everyday activities better than you could ever do with crutches. We are here to get your independence back and get you back on your feet. The holidays are a time for making memories with you friends and family and Goodbye Crutches wants to help you make those memories happy ones.
What is your favorite tradition for Halloween?
Share your answer in teh comment seciton below.