---
With the Halloween holiday approaching, you might be wondering how you are going to enjoy yourself and your children this year as you recover on one foot. Sure, there are plenty of things your crutches can help you do, but you simply cannot go everywhere you want to go. Especially at the speed your children move! Instead of trying to hobble through the holiday that has become so important to your kids, you might want to trade in your crutches for a peg leg.
Okay, so you will not be using a real peg leg. The actual device is called an iWALKFree hands free crutch, but it DOES sort of look like a peg leg. Instead of using crutches to get around, you will strap the hands free crutch to your leg and walk with your knee bent. You will be able to keep your weight off your injured leg AND have the use of both hands at the same time. This will come in very handy come trick or treat night. Not only will you be able to move faster and for longer, but you will have extra hands to carry coats, candy, baskets, flashlights and whatever other assorted items your kids throw your way.
Not only will your hands free crutch help you to get around with ease, but it also can make your costume choice very easy. After all, it does somewhat resemble a peg leg. All you have to do is throw a patch over your eye and a pirate hat on your head and you are a ready made pirate. You will likely get a lot of attention when you are out and about so be prepared to ask plenty of questions about your new peg leg!
Halloween can be a very exhausting holiday. You have to get yours kids' costumes prepared and ready and you need to buy candy to hand out yourself. Then, when the big night arrives, you have to hobble around from house to house collecting candy for others. Can you really imagine doing all of that on crutches? It can be a chore with both hands and feet working for you, much less on one leg and with no hands, like you would be limited to when using crutches.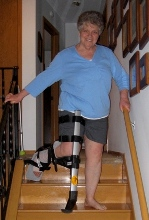 Utilizing the "peg leg" or iWALKFree hands free crutch simply makes sense for Halloween and even other everyday events. There are tricks to using the iWALKFree and most people gain confidence with the device in just a few days. When you need your hands, but still need your balance as well, the hands free crutch is a wonderful substitute for crutches. You might even be able to easily venture the stairs, which is something that has likely plagued you since the day you began your adventure on crutches.
Use Halloween as an excuse to trade your crutches in for a "peg leg" and then, once the holiday is over, simply do not trade back! Your recovery will go faster and with much more ease on the iWALKFree hands free crutch. The device can be found online and delivered directly to your home, hospital room or work. Renting can often be a cost effective option if you are only going to be off your foot for less than a few months.
---
---