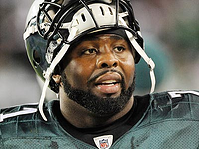 Every surgeon is concerned with their patient's ability to stay complaint and non weight bearing after Achilles surgery. It's a race against time: Will the tissue heal before the body forces test the repair. That test could come at the hands of an overzealous physical therapist, an over optimistic patient or even from the smallest puddle of water resulting in a slip or fall. For Jason Peters, the all star left tackle for the Philadelphia Eagles, that test came when the ROLL-A-BOUT® Knee Walker broke while he was using it in the kitchen. The fall resulted in a re-operation and plans to sue the manufacturer. It also resulted in surgeons pausing to question their own liability in such circumstances.


5 common sense things a Doctor can do to help their patient & limit their liability
Avoid Brand Names
When recommending any medical treatment, avoid using specific branded terms. For example, talking about weight loss options is much different than writing a prescription for Fen Phen. So to is instructing a patient either verbally or in writing to get a ROLL-A-BOUT® instead of using a more generic term Knee Walker or Knee Scooter. Brand names can be taken as an endorsement. "I got the exact device you prescribed..."
Provide Options, Not Endorsements
If Peter's surgeon had never mentioned the name ROLL-A-BOUT®, the story could have been just as tragic. Peters could have gone to the internet and chosen the cheapest knee scooter on the market, the same one that became the first knee walker recalled by the FDA. Many offices provide brochures from more than one supplier or share a list of places that other patients have found helpful. Even pointing to respected outside reviews like the Better Business Bureau reviews of knee walker suppliers can be seen as providing helpful information instead of tacit endorsement.
Educate Your Patients...and your staff
People feel respected and empowered when they are educated about the options that exist. While they must understand the importance of staying non weight bearing after surgery they must also know about the various options that exist to them: crutches, wheelchairs, knee scooters, hands free crutches, etc. Since time is always a scarce resource you can educate your patients online or during the pre-operative meetings. Your hospitals PT or OT department may even assist in evaluating and educating patients.
Know Your Supplier
Before mentioning any options make sure you have done some due diligence on the company or product. This can be as easy as asking patients, checking reviews online or talking with the company directly. Make sure it is an operation as legitimate as your own: A business that has a professionals and procedures. If they can't provide a physical address or show proof of insurance, you probably don't want to discuss them in a deposition.
But Don't Know Them Too Well
Too often knee walkers are rented out of the office, by a friend or family member, or even by the local implant rep. All could be difficult to later explain. Further more, since the business insurance required for a supplier who is renting devices is very specialized any coverage they have most likely does not apply to the sideline business or something they are doing under the table.


Be Your Patient's Advocate
If you recommend a knee walker supplier that charges the full purchase price as a deposit then charges another $25 because their name wasn't on the outside of the box, you're relationship with the patient is already strained. Things happen, sometime bad things. Like any complication if your patient sees you as a partner that honestly did his/her best and provide the education and options for them to choose you are more likely to be able work through the complications with the relationship intact.
So when will you have time to educate yourself
much less your patients about staying NWB?
Here are 3 free resources full of helpful links to share with your staff and patients