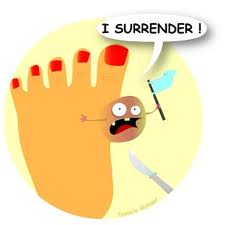 The time has come. You finally have to decide to have surgery on your foot. Part of you is excited about the surgery because it means that once you are recovered, you will no longer be in pain. But you are also dreading the surgery because there are simply too many people that depend on you to care for them, too much that must be done even as you recover. Before you go in for your surgery, do what you do best. Plan! If you have a plan in place to help you get through your recovery, you and everyone else in your house will feel better about the upcoming event.
Step 1: Prepare the House
See what it will be like to get around the house staying completely non weight bearing on your healing foot. Find a pair of crutches before you really need them and experiment with them at home while you still have two good legs. Walk around with the crutches and determine what pathways are too narrow. Move the furniture around a little to make sure you can get through without difficulty. It is also a good idea to move bathroom and other necessary items to the main level of the house so you do not have to tackle the stairs until after you have been home for several days.
Step 2: Prepare Your Family
Have a family meeting and make sure adults and children understand what will be happening and what kind of condition you will be in once you get home. There is no way to know exactly how you will feel, so try to plan for the worst…that you will be up to doing very little. Make a list of everyday chores, errands, and other tasks and assign those tasks to certain people in the family. If there are holes in the list, ask neighbors, friends, or extended family members to help fill the gaps until you are able to take over some of the items.
Step 3: Prepare Extra Help
Family and friends always offers to help so make sure you have thought through what you need. Ask them to help take your kids to and from school, play dates, or other activities. If a neighbors wants to bring a casserole or meal over right after you get home so no one has to worry about cooking. Just coordinate so that all the food doesn't show up at once. If you have to don't be shy about asking as family and friends might not know what you'll need. If you can coordinate those offers just right and spread them out, your recovery will go much more smoothly for your family.
Step 4: Prepare Your Mobility
Many people do not even realize that there are modern options crutches. To some crutches can be antiquated devices that are be very hard to maneuver and unstable. This not only limits what you can accomplish while recovering but inadvertently placing weight on you healing foot can increase pain, swelling making the recovery longer and potentially even compromising the ultimate outcome. Take a look at options that can be purchased or rented if you are only goring to be off your foot for less than a few months. There are Hands Free Crutches that allows you the use of both of your hands while you walk around. This is a great option for someone with relatively good balance who want to keep moving and get back to everyday life as soon as possible. The Knee Scooter is a device on wheels that allows you to get from place to place even faster than before. Just rest your affected leg on the cushioned pads and propel yourself with your good leg. There is even a removable basket to make carrying items even easier. If you can't kneel comfortably the Seated Scooter allows you to sit on a large padded gel bike seat while you safely move between locations. If you plan in advance, you will even have a little time to practice with your chosen device and be an expert before you go in for your surgery.