A Knee Scooter Doesn't work if you can't kneel
As an independent distributor we evaluate all knee scooters and other options to crutches. This way we can decide which ones are the best products to offer and be better equipped to answer customer's questions.
While there are many Knee Walkers (comparison chart) there are only two brands of seated scooters. Both were designed as a variation of the knee scooter to allow people to stay non weight bearing with out the use of crutches. Due to the injury of previous condition many people can not kneel comfortably. It could be knee arthritis, a total knee replacement of just recovering from a knee injury, the seated scooter can be a great option to crutches.
Patients overwhelmingly want a basket to hold their items while in use. The Voyager does not come with one standard, however there are baskets that fit the Voyager Seated Scooter.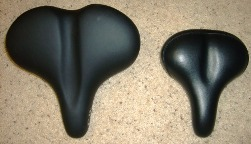 The two customer complaints we found consistently being raised about the Voyager Seated scooter were the comfort of the seat and about the brakes.
The original seat offered by the manufacturer was so small patients joked it came from Lance Armstrong's bike. A large gel seat is now offered.
The brakes very similar to those found on the RAMM Turning Leg Caddy can be difficult to engage the parking brake. While adjustments by the distributor can improve this, being able to visualize how it works in a video also makes it easier to set the parking brake the first time.
The Good
The best Seated Scooter on the market...but there are only two.

Accommodates patients 5'10" to 6'3" and up to 275 lbs

Folds for easy storage and transport

Large Eight-Inch Wheels: Can make it over small cracks and through carpets.

Turns: Just like a bike... sharp enough to maneuver, but not so much that it compromises stability.



The Bad
Basket: It is not a standard feature but there are quick release baskets that fit a Seated Scooter.

The Brakes: A style that is common on many knee walkers. They take grip strength and can be difficult to set the parking brake the first time. Most of the units only brake the rear right wheel.
The Ugly
Stability for tall people. The taller the unit the higher the center of gravity becomes. While the seat height can accommodate someone 6' 4" it is best to remember the shorted you are, the more stable the unit will be for you.

Comfort of the Standard Seat: Always go for the upgraded gel seat over the small unpadded standard seat that comes with the unit.
Goodbye Crutches is the largest distributor of alternatives to crutches in the US. We have purchased and tested EVERY knee scooter and various options to crutches on the market. As an independent distributor we find out the good, the bad, and the ugly then decide what models we will offer and will carry our brand.