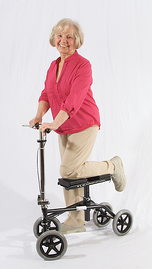 I just wanted to give a sincere Thank You for your excellent customer service and rental. My mom had undergone achilles tendon surgery back in February. She was in a cast for 6 weeks and in a removable boot for another 6 weeks, with orders to be non-weight bearing since her tendon was severely ruptured near the bone.
Although her recovery was not very painful, she was VERY discouraged after realizing she would lose her independence. We went through a daily process of finding which stores had wheelchairs, so that she could get out of the house or run errands. Surprisingly, some stores didn't have one! It was also very hard on me since I had to push her around with my 2 young children in tow.

I remembered seeing a woman last year with some manual scooter device that allowed her to prop up her leg and move around independently (she was actually going into a bar!) We asked my mom's Dr. about such device and he had no idea where to get one. I researched and found out it was called a knee scooter and came across your site. I mentioned the equipment to my mom, but she was hesitant about being on something with wheels. She also didn't want to pay for something else at this point when she was almost done with her boot.

She was out of her boot for a week when a small wound (from her cast) had become infected to the point that she had to be admitted to the hospital for IV antibiotics. She also had to have a V.A.C. placed on her wound with talk of a skin graft in the future. Back to square one!! Non-weight bearing again, crutches, and she couldn't stay with us this time.


The next week, she hesitantly asked me to get her "that scooter thing". But, she wanted me to go to her local Walgreens and rent it from there (not through the online site I found and reviewed 2 months prior). Obligingly, I called her Walgreens and drove 2 1/2 hrs. that weekend to pick it up before they closed. My mom tried it when she got home (she was dismissed from hospital that day), and immediately didn't like it because it was too high. I returned it the next day and convinced her to let me order one from GoodbyeCrutches.
I was delighted to find out that you had a knee scooter for my 5'0" mother (chatted online with a customer rep who even gave me the measurements to ensure it would fit), rental rates for the knee scooter were actually cheaper, it could be delivered in two days, and included an attached basket (a feature that would come in handy). We left back home for the week, knowing the scooter would be there Tuesday. (I chatted with "Tom" online to request special delivery instructions since my mom was on crutches and had to go down a flight of stairs). I was told that Tom later called on Sunday. He said he had to travel to a conference and that he could personally deliver the scooter to my mom since it was on the way! Talk about excellent and thoughtful customer service!!! So, she received her scooter a day after we ordered it!

We're getting ready to return the scooter since she doesn't need it anymore, and even that process is easy! We ordered the shipping label through your site and FedEx will pick it up for her so she doesn't have to worry about it.

I know that was a long-winded story, but maybe your can share with other potential customers. Maybe they'll have doubts about whether to use one or not; or whether to order online or use a local home medical supply store. If we had ordered from GoodbyeCrutches.com back in February, the recovery process would have been a lot smoother for all of us.

Thanks again!
Emily Villarreal