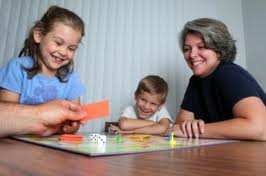 When you have a sudden, unexpected injury, you might look past the pain and inconvenience and actually look forward to having a little time to sit and relax. After all, normally as a parent, there is very little such time in your schedule. Once you get settled in on the couch, however, you realize that being a parent never goes away. You still have to find ways to entertain your children. The difference is that now that you are non weight bearing recovering on one foot, you won't be able to take them to the park, play ball with them in the yard, or engage in a game of hide and go seek. You will have to get creative, but it is still possible to entertain your children, even if you have to stay seated most of the time. Here are some options you could try during your recovery.
Option 1: Break out the Board Games
Think through all of the things you have used over the years to entertain your children on a rainy day and use those items to their fullest. It might have been awhile since you had time to play a simple board game with your child so the old games might seem new to your children. Offer to play any game they want as long as they bring it to you and get it all set up and ready.
Option 2: Reading
These days, children are so into computers, TV, and video games that simple reading often gets thrown to the wayside. When your child gets bored, have them bring some of their old favorite books to you and spend as long as you can reading to them. If they are old enough, maximize your relaxation and have them read to you instead.
Option 3: Coloring and Crafting
Coloring with your child is not only a great way to pass some time, but it is also a wonderful way to spend time with your child and have a nice conversation. While you color after school, ask your child about her day or dream with her about her future. You will find that not only will you have wonderful pictures to display on the wall during your recovery, but you will have quality time with your child. You can also come up with some simple craft projects that can easily be done from the seated position. Turn toilet paper rolls into binoculars with construction paper and a little tape. Use the old oatmeal cans to make mailboxes. Build bridges out of popsicle sticks. The options are endless and your children will enjoy the creativity they get to use.
Option 4: Ask for Help
There is no way to keep any child inside all of the time. When you run out of ideas, call your friends and neighbors and ask if they would be able to take your children along on their next outing to the park. Eventually, you will get used to your crutches and you will be able to take them some places yourself. Until that time arrives, lean on the kindness of others and gain a little peace and quiet for yourself.
Option 5: Look for Alternatives to Crutches
If you have found getting used to crutches rather cumbersome, spend a little time looking into other options. It's possible that you would be able to do many of the things you used to do with your children if you are able to find the right option. GoodbyeCrutches.com has several such options like the Knee Walker, the Seated Scooter, and the iWalkFree Hands Free Crutch. All can be rented or purchased and arrive in just one to two days with free ground shipping.