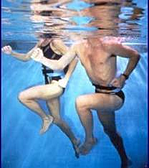 After suffering from the painful side-effects of a bunion, you may dread the doctor saying, "Don't put any weight on that foot after the bunion surgery. No walking, no running..." and their voice fades out as the patient mentally retreats in panic mode. However, all hope is not lost.
Fist talk to your Doctor and health care providers open and honestly. Follow their instructions but know there are plenty of exercises that may be able to be done after bunion surgery. In fact, doctors encourage patients to engage in regular physical activity after surgery, as long as they remain non weight bearing or it is appropriate for their condition.
Exercises You Maybe Able To Do After Bunion Surgery
Get in the Water
Water is not only a soothing element, it's a supportive one. There are many water aerobics classes available that provide high intensity workouts without compromising foot tissues after bunion surgery. The underwater motion the foot experiences may be just what it needs - enough supported motion to prevent stiffening, but not so much it incurs damage. Patients should avoid swimming styles requiring kicking until the incision heals. Pull-buoys used between the legs will introduce a whole new style of upper body workout.
Yoga Anyone?

Yoga is a perfect opportunity to breathe in and out, in an effort to handle all of the frustrations and difficulties after bunion surgery. Yoga instructors will have a wealth of stretches and positions that are supportive of tender feet. Flexibility is a bonus for any athlete, and patients may emerge in better shape than before their surgery.
Strengthen the Core

Pilates offers a workout with minimal weight-bearing impact and tremendous amounts of physical gain. Patients' stamina and core strength will be tested and many of the exercises will be valuable additions to future workout programs.
Flex those Biceps
Many runners compromise their upper-body strength, putting all their effort into distance and time. After bunion surgery, running is out of the question so it's a perfect opportunity to build the upper body and balance overall muscle strength.
Get to the Gym

There is no reason for patients to avoid the gym just because a workout has changed. In fact, the physical trainers available are the perfect resources to design a new 6-8 week workout routine that build on other target goals.
Exercise is good for the body, the mind and the soul. It keeps off unwanted weight, and promotes circulation, which is important for healing. Best of all, exercise produces endorphins, "feel good" hormones, which keep patients positively focused on the future.
The most painful exercise as you recover might be dealing with crutches. Talk with your doctor about modern options to crutches to stay off your healing foot. Things like Knee Walkers, Seated Scooters or the Hands Free Crutch can all offer you the mobility, stability and comfort you desire after your bunion surgery. Find out which option might be best for you by taking this quick online quiz.
---
---